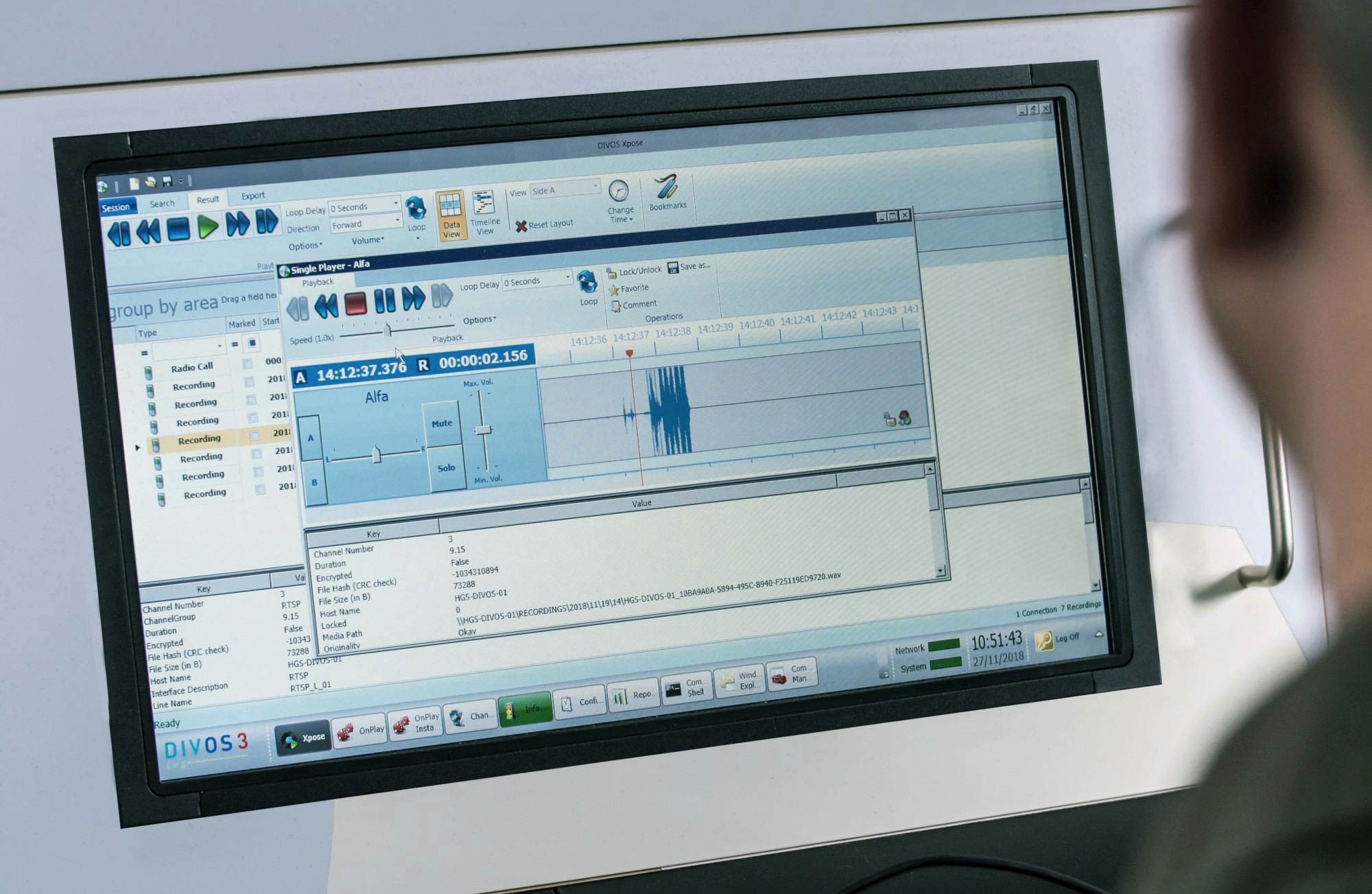 Legal Recording System USA
Integrated incident management tools provide a complete view of all communication, navigation and surveillance sources. Focusing on fast and efficient investigation, the DIVOS Air Traffic Control (ATC) recorder solution helps Air Navigation Service Providers (ANSPs) improve safety by providing an intuitive view of what has happened on every screen, audio and surveillance source in the control center. Features such as concurrent playback and export options improve incident analysis, leading to better conclusions and safety recommendations.
DIVOS - reliable recording of control room operations
Controllers manage thousands of air, train and vessel movements or public safety operations every day as safely and efficiently as possible. Information and communication systems support them in doing their jobs. The recording system supports safe and efficient operations in the following areas:
Operators can review their own performance in debriefing sessions, helping maintain a high level of quality.
Investigators can gain a complete picture of what happened in what order, and can understand why instructions were given in a particular way.
Service providers can review their processes and employees' performance to identify improvements in safety and efficiency.
Our DIVOS recording solution has been explicitly designed for the legal documentation of operator activities in safety-critical control rooms. DIVOS records telephone and radio communication, operator screens and data streams. The system design ensures a highly reliable and highly available operations to eliminate loss of information.
For more than 15 years, air navigation service providers, airport operators, public safety organizations (police forces, fire brigades, ambulance services), public transport operators, vessel traffic services and port authorities worldwide have successfully relied on DIVOS.
ATM-grade recording & investigation solution
ED-137 compliance guarantees full interoperability
Scaling from:
- small to large systems,
- single to fully redundant system configurations
- networked system to data-center solutions
ATM-tailored, browser-based investigation client combining different data sources and recording types
"At-the-glass" lossless recording of operator screens (from VGA to full-HD and 4k)
Synchronized playback with ATM systems
Solutions enable ANSPs to operate in compliance with EC482/ED153
Thorough documentation of all activities and events is a vital task for mission- critical control centers. The DIVOS logging system collects and archives phone and radio communication, while also capturing screens, giving operators and investigators easy access to securely stored information. DIVOS scales from single to distributed logging systems and provides powerful web services for full integration with other mission-critical information systems.
 
FURTHER INFORMATION & CONTACT
For more details please download the following document:

Should you have any further questions, please do not hesitate to contact Frequentis USA and Frequentis Defense, Inc. directly:
Phone:  (301) 657-8001
E-mail:  FRQ-USA@frequentis.com
Manage cookies