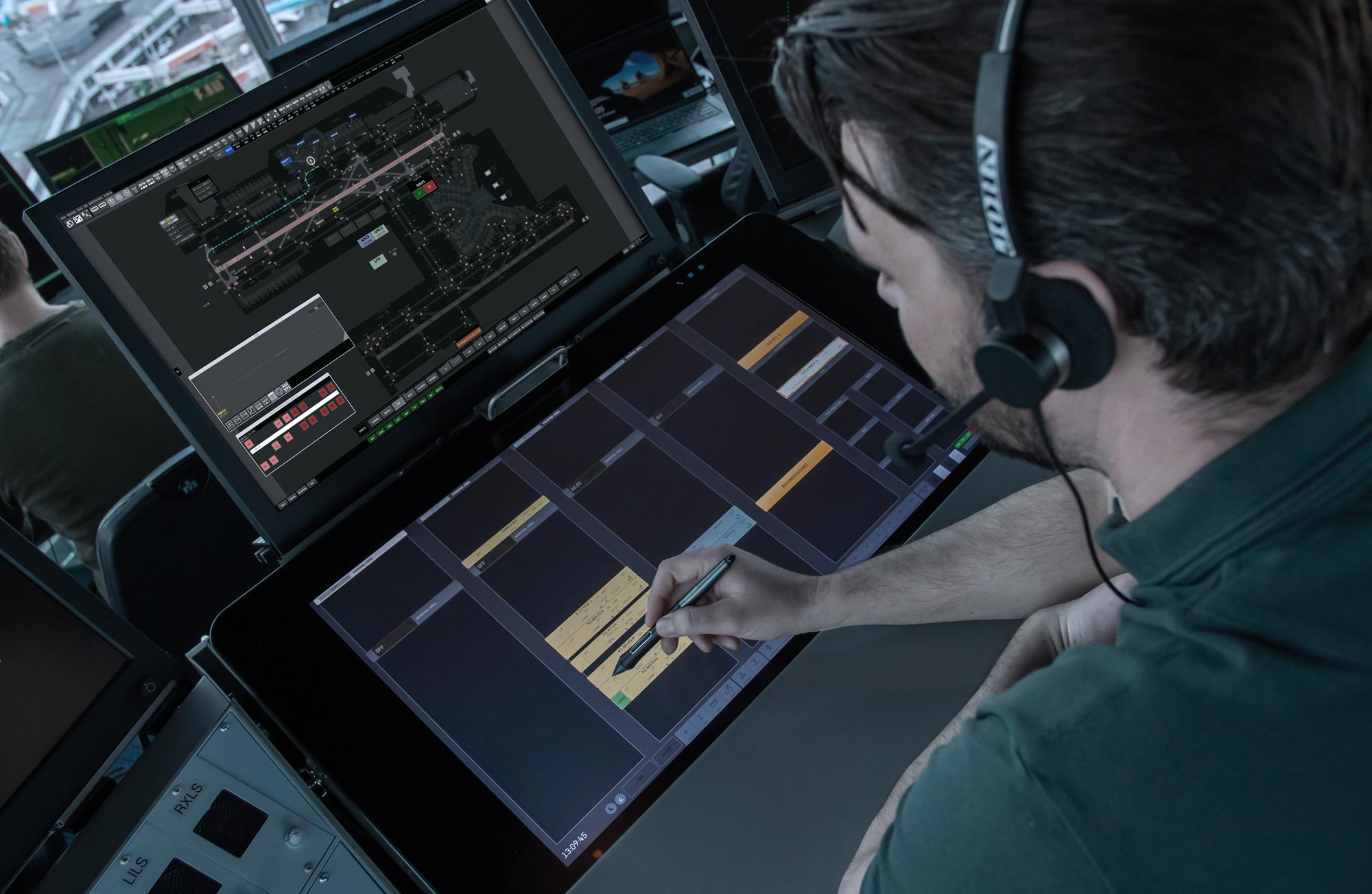 Advanced Digital Tower
Deployed in an Advanced Digital Tower scenario, Frequentis Digital Tower solutions enable skilled air traffic controllers to manage air traffic not only safely but also in the most efficient way, so as to ensure optimal usage of airport facilities. The solutions help large airports optimise aircraft movements under varying traffic loads, by automatically integrating a variety of information: flight data, meteorological information, traffic flow information, airline schedules and priorities, airport constraints, and environmental factors.
The benefits of Digital Tower solutions in this scenario include:
Capacity: scale cost-effectively to handle large and variable volumes of air traffic
Adaptability: tailor solutions to meet precise local requirements
Integration: seamlessly interface with existing and future systems from any vendors.
Improved airport safety & efficiency
The Frequentis Advanced Digital Tower solution focuses on reducing air traffic controller workload and enhancing safety and efficiency by integrating information from diverse sources, including electronic flight strips, air- and ground surveillance, meteorological information, traffic flow information and A-CDM. A shared knowledge base provides a wide variety of workflow- and decision-support functions that are instantly accessible to controllers throughout all flight phases, and especially during ground movements.
The Advanced Digital Tower solution enables the unification of ATC services with new technologies such as UTM in a single user interface, using the MosaiX digital platform to harmonise system data into one operational display. Surveillance data, vision enhancement and apron information can be integrated and displayed, providing full situational awareness so that controllers can operate safely while increasing performance.
 
Full situational awareness
Today's high density ATC tower environments comprise systems for surveillance, electronic flight strips, AGL, airport information management, weather data and voice communications. Given the wide scope of the Frequentis product portfolio, each of these application requirements is embeddable within the Integrated Controller Working Position (iCWP®). Full backend integration between any component is assured, providing a host of new opportunities to make controllers' jobs easier.
 
User-centric interface
In addition to the comprehensive information delivered through the backend integration into the iCWP, controllers benefit from integrated voice communication capabilities and a single consistent interface that delivers an exceptional user experience. iCWP presents a clear situational view and intuitive controls to simplify cross-functional workflows and promote safe, efficient operations.
Video
LVNL tower digitalisation with smartSTRIPS
Documents to download
Manage cookies