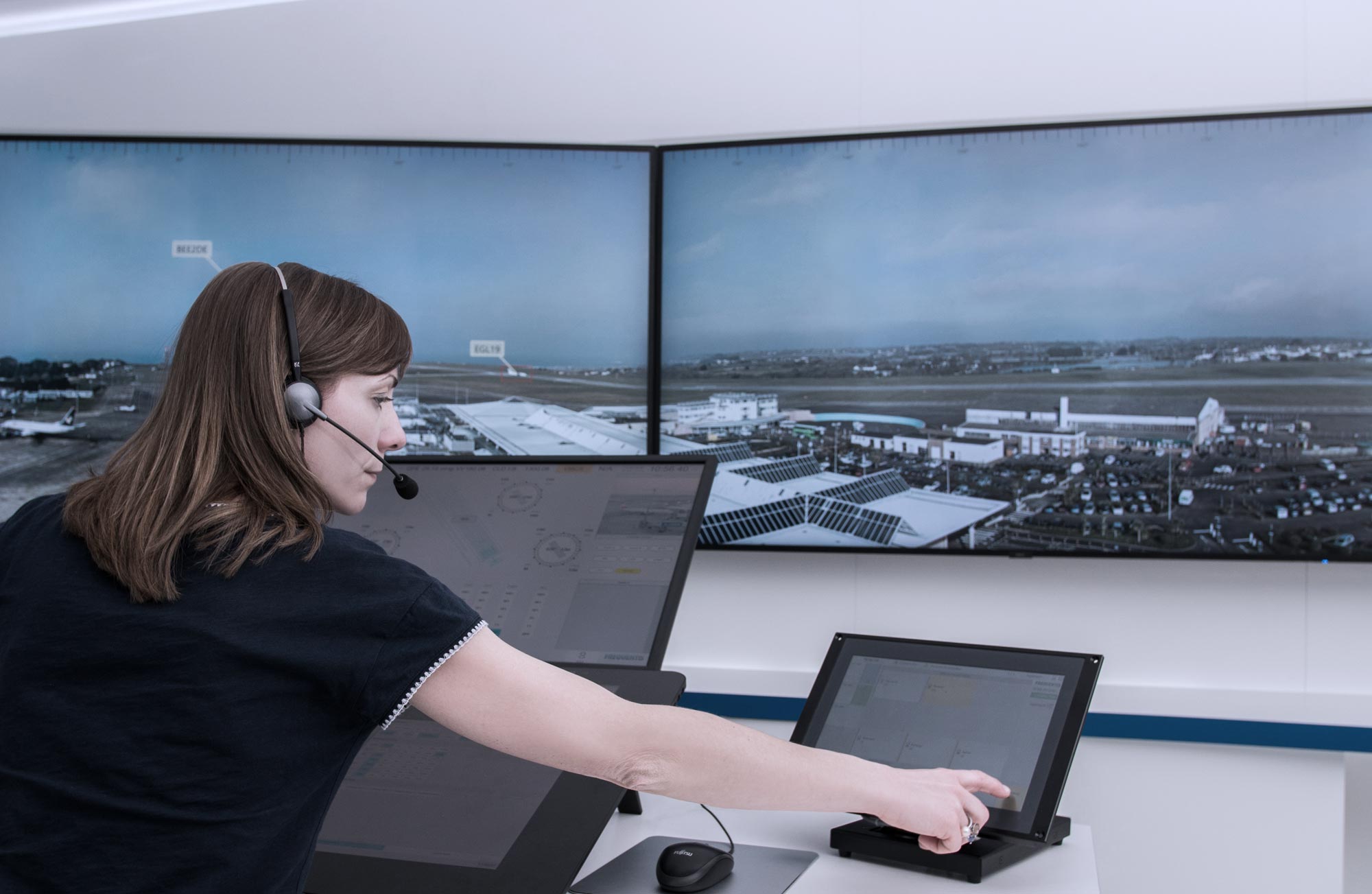 Remote Digital Tower
Deployed in a Remote Digital Tower scenario, Frequentis Digital Tower solutions enable the remote provision of ATC services from different geographic locations, using a multitude of local sensors to give controllers the situational awareness needed to safely operate an airport. An ATM-grade network provides reliability and performance to safely connect the remote airport with the remote tower control centre.
The benefits of remote tower operations include:
Safety: digitally augmented vision enhances situational awareness
Cost-efficiency: greater flexibility and better planning for staffing
Contingency and/or resilience: remote tower operations can provide flexible backup ATC services.

The right physical footprint
While large, video-screen-based solutions might fit contingency operations where multiple air traffic controllers serve one airport, a more compact version might provide space and usability benefits in other use cases. The Frequentis solution is fully flexible and able to meet any needs.
 
Advanced vision for ATC
Frequentis brings powerful remote vision to controllers through a wide range of cameras and sensors from leading providers. These range from simple cameras operating in the visual spectrum, to seamless 360° cooled infrared cameras for the best dynamic range and modular pan-tilt-zoom cameras. Image augmentation enhances video feeds with critical information such as object bounding and radar labels.
 
Intelligent networking and integrated communication
The Frequentis vitalsphere ATM-grade network provides a reliable, robust and secure foundation for connecting the remote tower centre with the main airport infrastructure. Advanced network intelligence ensures continuous performance and service reliability at balanced costs. Frequentis also offers integrated voice communication across the same network and through the same user interfaces.
 
Turnkey services from concept to go-live
Cutting-edge technology is just one element in a successful remote tower project. Equally important is a clear operational concept based on real requirements and a sound business case.
Through our subsidiary Frequentis DFS Aerosense, we support a global base of clients through regulator-approved pathways to acceptance and go-live. Our holistic consulting services, combined with our rigorous safety assessment methodology and reliable regulatory management, help ensure local certification for solutions.
 
Rethinking technology to boost efficiency
Frequentis continues to push back technological boundaries in ATC, delivering advanced video processing and artificial intelligence with the power to make airports of any size smarter. Frequentis is one of the leading participants in the EUROCAE WG-100 working group, driving change and creating standards. We also support SESAR research into multi-remote towers, and we lead the way in the integration of voice communication into remote tower operations.
 
User-centric interface
For all Digital Tower solutions, Frequentis proposes the Integrated Controller Working Position (iCWP®) concept, which provides controllers with a unified, operator-focused interface featuring integrated voice communication capabilities. iCWP presents a clear situational view and intuitive controls to simplify cross-functional workflows and promote safe, efficient operations.
Videos
Frequentis Remote Tower for Brazil
Frequentis DFS Remote Tower overview
Documents to download
Manage cookies